Project Stratus
Location Map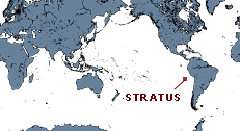 The Stratus project is located in the eastern tropical Pacific.
Surface Buoy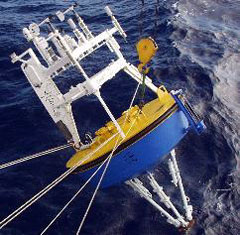 The Stratus surface buoy being deployed.
Overview
As part of the Eastern Pacific Investigation of Climate (EPIC) program, the UOP group has undertaken a study of Long-Term Evolution and Coupling of the Boundary layers in the Stratus Deck regions of the eastern tropical Pacific. The goal of the Stratus project is to observe and understand air-sea interactions and the surface forcing in the region of the cold tongue/intertropical convergence zone (ITCZ).
Beginning in October, 2000, we have maintained a fully-instrumented surface mooring at 22°S, 85°W to collect accurate time series of surface meteorology and upper ocean temperatures, velocities and salinities. The data collected will improve our understanding of the air-sea fluxes and sea-surface temperatures in the Eastern Tropical Pacific.
The Stratus mooring is an OceanSITES Ocean Reference Station, and is World Meteorologcal Organization station number 38400.
Sponsors
The Stratus project project is supported by the National Oceanic and Atmospheric Administration (NOAA) Global Ocean Monitoring and Observing (GOMO) Program through the Cooperative Institute for the North Atlantic Region (CINAR) under Cooperative Agreement NA14OAR4320158. NOAA CPO FundRef number 100007298.