Ocean Reference Stations Deployment Summary This page provides a summary of the deployments at the three Ocean Reference Stations maintained by Drs. Robert Weller and Al Plueddemann and the Upper Ocean Process Group of the Woods Hole Oceanographic Institution with support from the NOAA Climate Program. The three ORS are: Stratus, NTAS, and WHOTS. Stratus was first deployed in October 2000. NTAS was first deployed in March, 2001. WHOTS, which is done in partnership with colleagues at the University of Hawaii, who are supported by the NSF, was first deployed in August, 2004. Figure 1 shows an overview map of the three ORS sites.
In the following tables of deployments, all times are in UTC. The time of deployment is the time the anchor was dropped. It takes about 5 hours for the anchor to fall to the sea floor and the mooring to settle out. The recovery time, unless otherwise noted, is the time the acoustic release separated from the anchor to start recovery. In the case of a mooring failure, recovery time is the time that the surface buoy began to drift away from the anchored site.
The positions are the surveyed anchor location; the watch circles are between 3.5 and 4.7 nautical miles, giving the positions an uncertainty of up to 2.5 nm.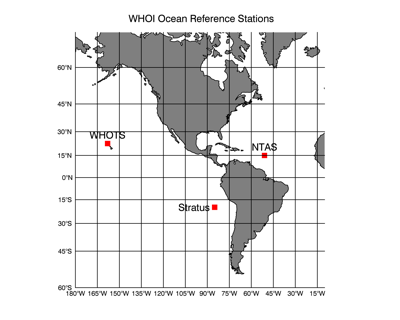 Figure 1. Overview map of the location of the three Ocean Reference Stations.


Stratus Ocean Reference Station
| | | | | |
| --- | --- | --- | --- | --- |
| Station | Deployment | Recovery | Latitude | Longitude |
| Stratus 1 | 2000-10-07 | 2001-10-17 | 20° 9.00' S | 85° 8.00' E |
| Stratus 2 | 2001-10-19 | 2002-10-22 | 20° 8.60' S | 85° 8.44' E |
| Stratus 3 | 2002-10-25 | 2003-11-17 | 20° 10.48' S | 85° 6.73' E |
| Stratus 4 | 2003-11-19 | 2004-12-12 | 19° 45.91' S | 85° 30.41' E |
| Stratus 5 | 2004-12-14 | 2005-10-12 | 19° 44.74' S | 85° 31.36' E |
| Stratus 6 | 2005-10-14 | 2006-10-18 | 20° 2.67' S | 85° 11.31' E |
| Stratus 7 | 2006-10-16 | 2007-10-29 | 19° 45.28' S | 85° 31.93' E |
| Stratus 8 | 2007-10-27 | 2008-10-27 | 19° 37.21' S | 85° 22.73' E |
| Stratus 9 1 | 2008-10-25 | 2010-01-20 | 19° 42.64' S | 85° 35.30' E |
| Stratus 10 2 | 2010-01-17 | 2011-04-07 | 19° 36.81' S | 85° 23.12' E |
| Stratus 11 | 2011-04-06 | 2012-05-29 | 19° 41.48' S | 85° 34.01' E |
| Stratus 12 3 | 2012-05-27 | 2014-03-08 | 19° 56.31' S | 85° 17.56' E |
| Stratus 13 | 2014-03-07 | 2015-04-24 | 19° 37.47' S | 84° 57.14' E |
| Stratus 14 | 2015-04-21 | 2016-06-22 | 19° 48.97' S | 84° 44.37' E |
| Stratus 15 | 2016-06-20 | 2017-05-12 | 19° 37.57' S | 84° 56.82' E |
| Stratus 164 | 2017-05-13 | 2018-04-08 | 19° 25.81' S | 85° 4.43' E |
| Stratus 175 | 2018-04-10 | 2019-04-23 | 19° 38.32' S | 84° 55.10' E |
| Stratus 18 | 2019-04-13 | 2021-01-31 | 22° 27.70' S | 85° 38.59' E |
Notes:
Stratus 9 mooring parted a few hours before recovery
Stratus 10 mooring parted 2010/07/07; mooring recovered 2011/04/07
Stratus 12 buoy adrift starting 2014/01/25, rest of mooring on deck 2014/03/03
Stratus 16 adrift 2018/01/04, recovered 2018/04/08
Stratus 17 adrift 2018/08/17, recovered 2019/04/18
NTAS Ocean Reference Station
| | | | | |
| --- | --- | --- | --- | --- |
| Station | Deployment | Recovery | Latitude | Longitude |
| NTAS 1 | 2001-03-30 | 2002-03-06 | 14° 50.00' N | 51° 0.00' E |
| NTAS 2 | 2002-03-04 | 2003-02-16 | 14° 50.00' N | 51° 0.00' E |
| NTAS 31 | 2003-02-15 | 2004-02-19 | 14° 50.00' N | 51° 2.00' E |
| NTAS 4 | 2004-02-21 | 2005-03-13 | 14° 44.00' N | 50° 56.00' E |
| NTAS 5 | 2005-03-11 | 2006-02-28 | 14° 41.00' N | 51° 3.00' E |
| NTAS 6 | 2006-02-25 | 2007-04-24 | 14° 45.00' N | 50° 56.60' E |
| NTAS 7 | 2007-04-19 | 2008-07-29 | 14° 49.33' N | 51° 0.82' E |
| NTAS 8 | 2008-07-28 | 2009-07-01 | 14° 45.13' N | 50° 57.17' E |
| NTAS 9 | 2009-06-29 | 2010-11-12 | 14° 49.54' N | 51° 0.87' E |
| NTAS 10 | 2010-12-10 | 2011-11-28 | 14° 45.01' N | 50° 57.01' E |
| NTAS 112 | 2011-11-25 | 2012-12-06 | 14° 49.50' N | 51° 1.05' E |
| NTAS 12 | 2012-12-03 | 2013-10-25 | 14° 44.95' N | 50° 56.98' E |
| NTAS 133 | 2013-10-22 | 2014-12-15 | 14° 44.95' N | 50° 56.98' E |
| NTAS 14 | 2014-12-13 | 2016-02-04 | 14° 44.64' N | 50° 57.71' E |
| NTAS 15 | 2016-02-02 | 2017-01-31 | 14° 49.50' N | 51° 0.98' E |
| NTAS 16 | 2017-01-30 | 2018-06-12 | 14° 45.75' N | 50° 57.40' E |
| NTAS 17 | 2018-06-10 | 2020-01-16 | 14° 49.47' N | 51° 0.99' E |
| NTAS 18 | 2020-01-10 | 2020-10-24 | 14° 44.58' N | 50° 56.71' E |
Notes:
NTAS 3 mooring adrift 2005/02/15 18:10 UTC<
NTAS 11 mooring adrift 2012/05/02, buoy recovered 2012/12/06
NTAS 13 mooring adrift 2014/09/23, buoy recovered 2014/10/28, lower portion recovered 2014/12/15
NTAS 18 adrift 2020/04/28, buoy reccovered 2020/10/20; lower portion recovered 2020/10/24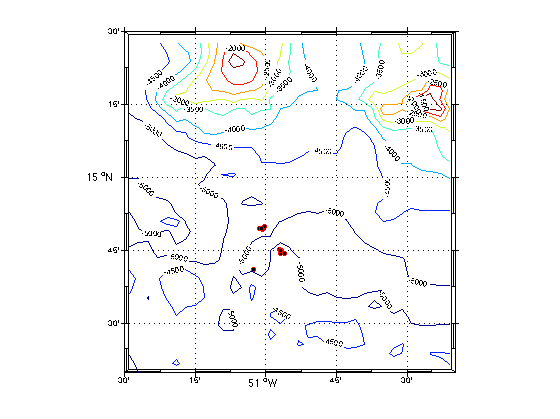 WHOTS Ocean Reference Station
Station
Deployment
Mon/day/yr
Recovery
Latitude
Longitude
WHOTS 1
2004-08-13
2005-07-25
22° 46.00' N
157° 54.00' E
WHOTS 2
2005-07-28
2006-06-24
22° 46.00' N
157° 54.00' E
WHOTS 3
2006-06-26
2007-06-26
22° 46.00' N
157° 54.00' E
WHOTS 4
2007-06-25
2008-06-06
22° 40.00' N
157° 57.00' E
WHOTS 5
2008-06-05
2009-07-15
22° 46.06' N
157° 54.09' E
WHOTS 6
2009-07-11
2010-08-02
22° 39.99' N
157° 56.96' E
WHOTS 7
2010-07-29
2011-07-11
22° 46.01' N
157° 53.99' E
WHOTS 8
2011-07-07
2011-06-16
22° 40.16' N
157° 57.02' E
WHOTS 9
2012-06-14
2013-07-14
22° 46.07' N
157° 53.96' E
WHOTS 10
2013-07-11
2014-07-20
22° 40.12' N
157° 57.01' E
WHOTS 11
2014-07-17
2015-07-14
22° 45.98' N
157° 53.96' E
WHOTS 12
2015-07-12
2016-06-29
22° 40.06' N
157° 56.97' E
WHOTS 13
2016-06-27
2017-07-31
22° 47.40' N
157° 54.48' E
WHOTS 14
2017-07-28
2018-09-26
22° 40.16' N
157° 57.09' E
WHOTS 15
2018-09-23
2019-10-08
22° 46.05' N
157° 53.89' E
WHOTS 16
2019-10-06
2021-08-28
22° 40.01' N
157° 56.96' E