SPURS: Salinity Processes in the Upper Ocean Regional Study
Sponsor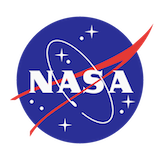 Principal funding is provided by the NASA Physical Oceanography Program.
Data Plots
Met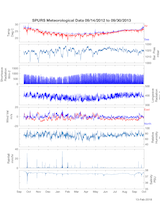 T/S Contours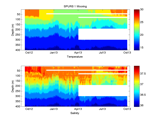 Archived Data
Notes
All data presented here should be considered provisional, as further further updates may be made. Please note the version date as well as the citation for any data you download.
A full description of the OceanSITES NetCDF specification used for UOP datasets is available on the OceanSITES web site. Variable "standard names" are taken from the Climate and Forecast NetCDF specification.

Meteorology and Surface Fluxes
SPURS-I meteorological data was collected by ASIMet loggers; duplicate sensors were deployed to ensure continuity of data, and the best data record was selected from each sensor pair. The ASIMET system provides measurements of wind velocity and direction, relative humidity, air and sea surface temperature, incoming shortwave radiation, longwave radiation, barometric pressure, and precipitation. More detailed information about this instrument package is available at /UOPinstruments/UOPinstruments.html.
Preliminary surface fluxes are calculated using the COARE Bulk Flux algorithm.

Temperature and Salinity Data
Subsurface temperatures and salinity at 37 depths from 1.3m to 400m are recorded using a combination of instruments, mainly from Seabird Electronics, Inc.but including 5 XR-420s from Richard Brancker Research, Ltd.. A plot showing T/S data returnis also available.
| | | | |
| --- | --- | --- | --- |
| Type | Metadata | 5-Minute data | 5-Minute data |
| Temperature and Salinity | CDL | NetCDF | ASCII |