R/V Shana Rae operations in support of April 2015 AirSWOT campaign, April 17-20, 2015
Sponsor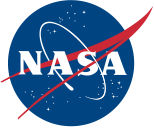 Location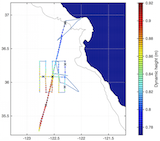 AirSWOT Field Campaign Data
Notes
All data presented here should be considered provisional, as further further updates may be made. Please note the version date as well as the citation for any data you download.
UCTD Data
A full description of the OceanSITES NetCDF specification used for these datasets is available on the OceanSITES web site. Variable "standard names" are taken from the Climate and Forecast NetCDF specification.

Data contains 158 casts each with a time stamp, latitude and longitude. Data is binned to 548 depths, from .9927 to 542.286 meters. Invalid or missing data points are replaced with NaNs in the ASCII text files.
Raw data from individual UCTD casts is also available in a gzipped tar file.
EM/APEX Float Data
Gridded [2 m] horizontal currents, Temperature, and Salinity from floats; dates are in Matlab convention, floating point values representing days since 1 Jan 0000 at 00:00 UTC.