Project CLIMODE - CLIVAR Mode Water Dynamic Experiment
Sponsors

Principal funding is provided by the National Science Foundation.
This material is based upon work supported by the National Science Foundation under Grant No. 0424536.
Real Time Data
Hourly averaged meteorological data for the current deployment of the CLIMODE buoy are received via Service Argos four times daily. Preliminary data is displayed in unedited form as time series, and is available for download as ASCII files.
Cache check: this document loaded
A note on realtime data resolution
CLIMODE II
The CLIMODE - II buoy was launched at 11:05 UTC Nov 20, 2006 during a cruise aboard the RV Oceanus.
The buoy broke free at approximately 01:30 UTC on 01-Feb-2007; the last on-station position was 37.9870N 295.3550W. The buoy was recovered on February 9 during a Knorr cruise; Argos transmitters were turned off on February 13.
Logger 17 (system 1) has a Gill Sonic Anemometer which had a firmware problem with its compass; wind directions are incorrect.
The props on logger 18's R.M.Young wind sensor were damaged in a storm on Jan 20, subsequent wind speed and direcction are incorrect.
ASIMet Plots
Plot 1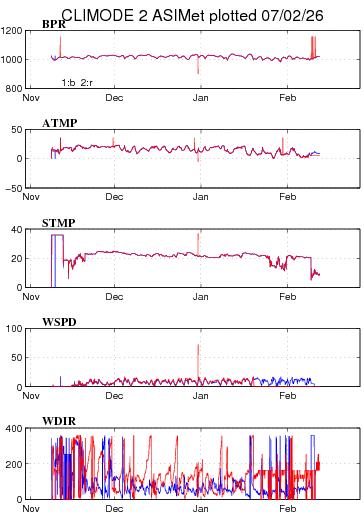 Plot 2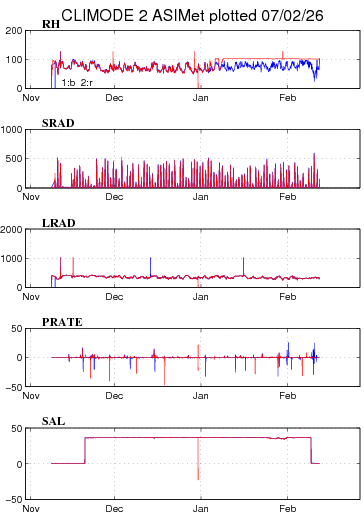 DCFS Flux System
Plot 1
Plot 2
Plot 3
CLIMODE I
The first CLIMODE buoy was set on November 13, 2005 at about 38¡N, 65¡W, and recovered on November 19, 2006. Preliminary data is presented here pending the availablility of processed, internally-recorded data.
ASIMet Plots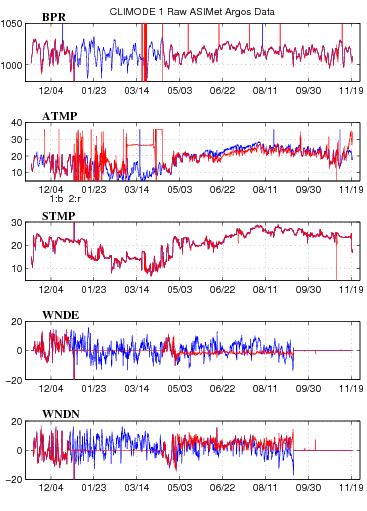 Plot 1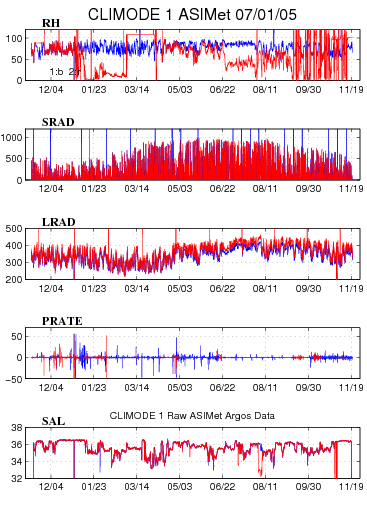 Plot 2
DCFS Flux System
A prototype instrument is also transmitting data via the ASIMet-Argos system.
Plot 1
Plot 2
Plot 3